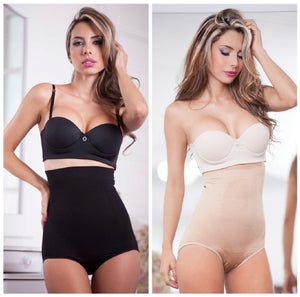 Exclusive design that molds your body instantly and creates high control in waist and abdomen. 
- Invisible under clothes 
- Molds waist and abdomen 
- Seamless 
- No hooks, no zippers 
- Perfect for daily use 
- Silicone band 
- Extra wide compression band 
Material : 90% Nylon, 10% Spandex 
Sold in a set of 2 pieces, comes in Black and Nude. 
Made in China 
**Due to hygiene purpose, there will be NO exchange/refund should you purchase the wrong size. 
Slim Panties Size Chart 
Small - Waist : 25 - 28 inches / Hips : 36 - 38 inches 
Medium - Waist : 29 - 31 inches / Hips : 39 - 42 inches 
Large - Waist : 32 - 34 inches / Hips : 42 - 45 inches 
X Large - Waist : 35 - 37 inches / Hips : 46 - 49 inches